Aye, my name is Lea, I'm 17 years old and I'm from Switzerland . Never in a million years did I think that one day I'd be able to write my own Bieber Experience. I've been supporting Justin since 2009 and everyone always said to me, "You'll never meet him." But you know what? I did. On 22nd March 2013 I met my idol. I've been waiting for this day for so long. There were times when I was about to give up, to throw all my hopes away because people just kept pushing me down and telling me that Justin didn't even know I existed. For four years, I've been fighting to finally meet my idol. Justin has helped me through so many dark times of my life where I just wanted to give up. He has helped me through points where life didn't make sense to me anymore. He was always my reason to stay strong and keep fighting. Justin had been to Switzerland once in 2011. I went to see him on the My World and I remember telling myself that I'm never ever going to give up and that I know that dreams do come true. Last summer when the tickets for the Believe Tour came out I couldn't afford to buy a meet and greet ticket. I didn't have the money and my parents didn't buy it for me because they don't like Justin and think it's totally stupid how I'm basically dedicating my life to someone who doesn't know I exist. What my parents don't know is that this one boy is the only reason why their daughter is still alive. I was only able to buy the cheapest tickets that was available. Over the months until the show I kind of accepted the fact that I'm not going to meet Justin. Then on March 19th 2013, two days before the concert, I got an email from a contest. I won a meet and greet ticket! I remember sitting in school, my face got pale and my friends asked me if everything's was okay. I ran out of the classroom without saying anything. I ran out of the school, broke down and started crying. On the big day I travelled to the arena with my friend, spend the day in front of it, hanging out and meeting several amazing beliebers. As I was in the meet and greet line, Justin tweeted: "Zurich get ready #believe." We all screamed and fangirled! A tear fell down my eyes as we waited for the meet and greets to start. I still couldn't believe I was about to meet him. The security opened the door and let us three in as the others got out. I looked at the girls coming out and they all were in tears and I was so nervous. Then there he was. Justin was standing there in front of a white wall and he looked more flawless and perfect than I ever thought he could be. The security asked us if we had any presents for Justin and I gave him my drawing and a letter. I wasn't able to move, breathe or anything. Security grabbed us and put us in place for the picture. I was lucky because he put me on the left side of Justin. "Hi Justin," I managed to say and he said, "Hi guys." He put his arm around my back and I looked at him. I then looked at the camera and saw the flash. I didn't even know if I was smiling or looking at the camera because I was in such a mess, I could barely breathe. I wish I would have been able to hug him but they didn't let us or give us the time to. After the M&G I broke out into tears. I don't think I ever cried that hard in my life. I still couldn't believe I was just standing next to my idol, and he touched me. After, we enjoyed the concert together and it was the best night of my life. We cried, smiled, laughed, sang along, it was perfect. When I got home I fell into my mom's arms and started crying and I think that was the moment she finally realized how much Justin means to me. –@KidrauhlHomie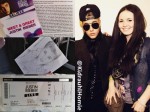 Go here to read the rest:
Aye, my name is Lea, I'm 17 years old and I'm from Switzerland….