I can't believe that I'm writing this right now. I'm Mara, 15 years old, from Germany and I've been a belieber since 2009. I never thought that I'd meet Justin Bieber, my idol, my hero, my everything – but I just did. It all started when I asked my mom for a ticket. She was like, "No, never." I cried so much. It felt like everyone met him except me. Finally my mom decided to take me to a concert, she looked around the internet for tickets. She saw the meet and greets and told me she wanted to buy it for me. I cried so much that day. I couldn't believe it. On April 2nd 2013, the day of the concert, I went early and met up with some friends. We went inside the venue, got our meet and greets and went into line. We waited there for 2 hours. Dan Kanter came out and took pics with everyone. He was so sweet to everyone! The security man explained to not touch, hug or kiss Justin. I looked through the curtain and I saw Justin for a second. I cried like an idiot, that's why my face is red in the picture. When the security told me it was my turn, I honestly could not move, so he pushed me towards Justin. Justin look right in my eyes, smiled and has put his arm around me. The photographer then told us to get ready for the picture. I looked at Justin with my eyes wide open. I asked him to hug him and he was like, "Yes of course!" until his security pulled me away. Justin has put his arm on my shoulder but the security kept pulling, so we ended up holding each other's hand. I continued to cry until we went outside. The concert was amazing and it was the best day of my life. My idol, Justin Drew Bieber, noticed me. Finally. Belieber till the end. -Mara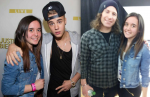 See the original post:
I can't believe that I'm writing this right now….