I've been a belieber since I was 12, and I'm now 18. When the Believe tour dates for NZ were released back in June, I just had to get meet and greets. The day the tickets went on sale, we had 6 computers in total to try and get them, but still we missed out. We managed to get row 8 diamond which I was still stoked about, but deep down I was absolutely devastated because I was sure that was my only chance to meet my idol. The next day I was at work when I got a text from my friend Stacey, saying "Hey text me when you're in the office so I can ring you. I'm really bored." I didn't think anything of this because she quite often rings me at work. I replied and told her to ring now. I answered the phone and I couldn't quite understand what she was saying cause she was crying so hard, but I managed to make out, "Sarah, we're meeting Justin Bieber! I just got us front row!" I had never cried so hard in my life. I still to this day cannot understand how it happened, but I'm forever grateful. Fast forward to the day of the concert. Our flight landed at 7.30am and even though we weren't even sure if he was in the country yet, we spent the day trying to find either him or the crew, but with no luck we made our way down to Vector Arena to wait for the meet and greet. When it was time for check in, that's when the waiting really started. We then got taken into a cute little VIP room that was decorated with fairy lights and Justin's music was playing. We walked past the stage on the way and saw Cody Simpson sound checking. At about 7.45pm we were moved out of the room and down some stairs. That's when time really started going fast. When I got to the bottom of the stairs I could see girls walking passed outside crying. I had no idea I was that close. Then I saw Justin. I was shocked at how perfect he was, and that's when I really started to panic. First it was Stacey's turn. When she went in, that's when I really started finding it hard to breath. One of the guys on security patted my back, said, "You got this," and gentle pushed me in. As I entered the room I felt strangely calm. I walked right up to him and said, "Hi Justin can I please have a hug?" to which he replied, "Of course!" and he pulled me in for a hug. It seemed to last forever and he was rubbing my back. I cant even explain what it felt like to be holding my whole world in my arms. He smelt amazing like coconuts. He pulled away from the hug, but still had his hands on my waist. I  thanked him for everything he's done for me and that I loved him. He stared right in my eyes and said, "No, thank you, I love you." He was so genuine when he said it, you could tell he really is thankful for us. He then said to "Come on this side sweetie," so we could take the photo. He told me to enjoy the show, and that was it. As soon as I left the room I just bawled my eyes out. Even though it only lasted for a few seconds, it was by far the best moment of my life and I wouldn't change anything about it for the world. I owe Justin my life, and I could never ever thank him enough for what he has done for me. If you haven't yet met your idol, never ever give up, because I promise you it will happen. Never in a million years did I think this would happen, but it did. It just proves that if you want something bad enough, anything's possible. -@ kidrauhlskiwi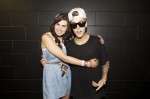 View original post here:
I've been a belieber since I was 12, and I'm now 18….