My name is Bethany and I'm from Newcastle in the UK. I haven't met Justin Bieber yet but I'm sure I will one day. My Bieber experience is through Twitter and it happened on the 2nd of December 2010. Justin was in London to promote his new movie and he was doing a live web chat with Ferne Cotton. We were all texting our questions in hoping that they would be answered by Justin but they didn't. I was quite upset I wasted a lot of money texting in. During the interview Justin said that the only think he liked about the UK was Cheryl Cole. He didn't mention his fans and the support he got. This made all of us very upset and the UK fans started to kick off on Twitter. I decided I would tweet Justin and I said, "Justin do you love me and your uk fans?xxx" and I only tweeted once because I hate spam and I'm sure Justin does too. Then a few seconds later I had a new follower and a new DM. I didn't even think that it could be Justin. When I clicked on my messages and it said @justinbieber I screamed the house down! I just froze and starred at the screen! I checked to see if it was the real him and it was! The blue verified tick proved everything. I was so happy I couldn't stop smiling and I couldn't believe my luck. I read my message from Justin and it said, "of course i love them. just don't like the weather". I couldn't eat I was that happy, I texted all of my friends and uploaded all the pictures to Facebook and Twitter. I gained loads of followers and lots of people asked for DM's. Then a few moments later Justin tweeted a tweet about my tweet what I sent him and it said, " and be clear. love my british fans, and the girls of course, and hello cheryl, but u cant blame me for not liking the weather. look outside".   I just want to say never say never because one day your dream will come true you just have to keep trying. Justin loves every single one of his fans and he could not be here without us so  always  keep beliebing. -@BethjadeGx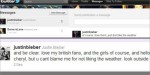 Go here to read the rest:
My name is Bethany and I'm from Newcastle in the UK….