My name is Dara and on the 18th of February I met Justin Bieber. It was absolutely, positively the best day of my entire life. I remember exactly when it was announced that Ireland was part of the Believe Tour. I was staying at my nanny's with my cousin Amy and she woke me up at half 8 and read a text. I honestly thought a family member had died (knock on wood) by the look on her face. We were both so shocked, happy and excited. Me, Amy and her two friends payed for the BieberFever membership so we could get the pre-sale tickets. I remember having a week to try and save up 100 Euro for the ticket. The night before I was crying and couldn't sleep because I was so worried we wouldn't get tickets. We ended up being very lucky and got standing tickets! On the 15th of December, Amy called me telling me there were still tickets available for the 18th of February so I rang my mam and begged her could I go and she let me. It really couldn't get better, or so I thought. On the 16th of February, Amy, her two friends Nicole and Rebecca, and I camped outside the 02 arena where Justin would be preforming the next night. During camping, Scrappy came out to talk to everyone camping and then he tweeted about us! We waited outside the arena for 17 hours, it was horrible. It was so cold and I only got 2 hours sleep, but none of that mattered because WE GOT FRONT ROW in standing. I actually couldn't believe it, the only thing between me and Justin Bieber was a barrier. During 'Out of Town Girl,' Justin got the camera and recorded all of the front row. I remember looking up and seeing him right there, looking through the lens pointed at me. Also during 'Beauty and A Beat,' Justin touched my hand! Words just can't describe the feeling. When we got back to Amy's we were so tired so I went to the bathroom to take my make up off. Amy came in the room crying and I thought like she deleted all the pictures or something. Then she said, "Dara, I won a meet and greet, Dara, we're meeting Justin!" I just kept saying, "No, no we can't be, stuff like that doesn't happen to people like us." I checked the mail and it was true, we were meeting him the next day! We waited for about 4 hours in the line. I met Dan, Kaili, and saw Kenny and Luke. We walked in and two girls got beside Justin, but I walked straight over to him, put my hands on his waist and said, "Can I get in here?" and he was like, "Aw, I'm sorry you can't." After the picture I tried to give Justin a hug, but the security was pulling me and I was begging Justin and he said, "Of course you can," and pushed away the security guards hand and hugged me. I started to breakdown before I even left the room and when I did leave, my legs collapsed and I couldn't stand. I just sat there crying so much I couldn't believe it. It was honestly the best experience of my life, I can't explain how much it meant to me. I love Justin so much, and it was just the best thing to ever happen to me -@kidrauhlakalife (far left)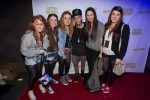 Originally posted here:
My name is Dara and on the 18th of February I met Justin Bieber….