My name is Emily and I'm from Pennsylvania. On November 4th 2012, my dream came true of meeting Justin Bieber. Honestly everyone who posts a story on here says it, but I never thought I would be able to meet my idol. I always read the stories on MBE hoping one day it would be my turn. It all started with coming home from school one day to find out my mom had gotten tickets to Justin's concert and I was so excited because it would be the first time I would get to see Justin live. I knew I only had tickets for almost until I walked into my bedroom to find a paper with everything included in the M&G package on my bed. I was confused but I ran right up to my mom who was holding another paper in her hand, she smiled and handed me the paper. Yeah, tears instantly flew down my cheeks as I was reading the paper because it was true. My mom had M&G's for me. Believe me, that whole day I couldn't stop crying and I thanked her so many times and she just replied, "It's your dream and it's finally happening." She was definitely right, it's been my dream ever since I've been his fan which was when his first CD was released. On the day of the concert, it was time to leave for the arena. I got there and met so many Beliebers I talked to over Twitter and so many others, which was great. I saw Nick DeMoura, Justin's grandparents, Alfredo, Dan, Scrappy, Kenny and DJ Tay James all arrive. Then it was time to go pick up the M&G's and get in line. Finally, I ended up in line and that's when I first saw Kenny and I screamed, "Kenny" and he just smiled and waved. Then I saw Dan, and he came over near me and I talked to him for a little, he was so sweet.  The line finally started moving to go downstairs to where we were to meet Justin. All I can say is I was shaking so much and my eyes started to tear as I waited. All of sudden I see Alfredo come out and walk down towards me, so of course I screamed "FREDO" and he came right up to me. I wrote him a note so I gave him that and he smiled put it to his heart and said "Thank you." I nearly died. He gave me a hug and the line started to move again so I said bye and thank you to him. There was two girls in front of my who were next, then it was my turn. I was just shaking so much. All I hear is Kenny say, "You're next" so I walk up. Kenny put his hand on my back to tell me to go in and I walked through the curtain and right in front of my eyes was my idol. I don't know how tears didn't just endlessly come out but somehow I held it back. There was a guy talking to Justin so I just stood there for a few seconds then Justin made eye contact with me and smiled. I started walking to him and I remember letting out a faint "Hi" and he replied "Hi sweetheart." As soon as I heard his voice say sweetheart I was just gone. We took the picture and I turned to him and asked for a hug and he replied "Of course." This is where my tears started to come out, I let go off him and said "Bye, thank you so much for everything I love you." He replied, "No, thank you." I walked out and I just let loose of all my tears. "I just met and hugged my idol" I thought to myself, this was something I never knew would happen, it just felt like a dream it really did. So next, my mom opened up an envelope with our two tickets inside for the front row. We had two extra tickets, you bet I went to go find someone without them. I found a girl I met earlier who had none and gave them to her with another girl I had met from Twitter. All I can say is as soon as I gave her those tickets she literally just started crying endlessly and it was the best feeling in the world. Scooter's absolutely right when he says it feels amazing when you give back and see someone else smile over a ticket. Now, I'm finally in my seat and I go on Twitter to find out Alfredo tweeted me . I screamed in my seat and read what he said to find out he read my letter. Wow, I was just thinking to myself "Did all of this really happen?" It's unreal to think my dream finally came true. The whole day was absolutely amazing and beyond the best day/night of my life. I never ever thought it would happen, but it did and I'm grateful for it. Truthfully, don't ever give up and just believe in yourself and one day too you'll have a My Bieber Experience. -Emily (@stratf0rdbieber)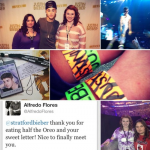 Go here to see the original:
My name is Emily and I'm from Pennsylvania….