My name is Helena, I'm 17 and this is my Bieber experience. Justin always taught me to never say never and believe. Even though I never had the chance to meet him, I never gave up and I moved on. The fact that I live in Germany is even worse. Justin rarely visits Germany but my belieber friends and I were so happy when we found out Justin would have SIX Believe Tour concerts here – and I found hope again. Then one day I saw a competition for a pre-show party in Hamburg at the Adidas NEO Label store. I read you could have a live chat with Justin himself and I joined the competition. A few days later I got a mail: "Congrats! You've won!" My best friend and I literally freaked out. I was finally able to talk to my idol, I thought. When the final day came I went to Hamburg by train with not even a cent in my pocket. The train was late, like almost always but I arrived in Hamburg safely. It was my first time in Hamburg and I moved through the big streets of the city and looked for my friend, who stood in front of Justin's hotel. After almost an hour of searching  for the Adidas store, we finally found it and queued up, talking with the other beliebers. It was rumoured that Justin himself would come there but I didn't really believe it. Inside we got something to eat and drink (for free), we could make signs and so on. There was a DJ playing some music too. After a while DJ Tay James got on stage and played more music and raffled some stuff off. I was slowly giving up hope as the time went on because there was not even a live chat! My friend and I got pretty disappointed. I didn't realize the girls around me were screaming when all of the sudden, Justin Bieber showed up on stage with a microphone. He said something and then, "I will take a picture with all of you guys." I didn't really understand any of those words or even that my freaking idol was in front of me. I heard the weeping and screaming of girls. A staff member told us to not hug or kiss Justin and to put away cameras and phones, or we wouldn't get a picture. No one risked anything and did what she said. A girl who I got to know there fainted and wasn't able to get a picture with him. I really felt and still feel bad for her. We decently queued up to get our picture with Justin. I looked for my best friend but I didn't find her. While searching her, I spotted Fredo. I ran to him, tapped on his shoulder  as someone pulled me away. I got his arms around him and said, "I love you" and he smiled at me. He smelled like after shave. Soon after, I found my friend. The queue got shorter until we stood next to Kenny and I told him I loved him. He just looked at me with his bright and cute smile. Then someone gently pushed us in Justin's direction. Justin looked right in my eyes and smiled at me. I got on his right side and just felt my arm moving towards his stomach. I felt his stone hard abs under my fingers. When the picture was taken I looked at him again and said, "I love you" and he replied with "I love you too" and then winked at me! I swear this wink was the sexiest thing I have ever seen in my entire life. After that I fangirled with the others and still couldn't believe anything. We then got a bag with a poster, a pen, an empty book and a 10€ coupon for Adidas NEO stuff. This day – I know – I would never ever forget. It was just the best day in my whole life. DREAM DO COME TRUE. -@ lena_beebs Here's a video from that day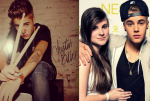 View original post here:
My name is Helena, I'm 17 and this is my Bieber experience….