My name is Sarah, I'm 15 years old and from Germany. I've been a Belieber since 2009 and I finally met my idol on April 6th, 2013. I couldn't go to the My World Tour in 2011, so I was even more excited to go to the Believe Tour. It all started last year on June 7th, 2012 when Justin performed at Germany's Next Top Model, that I had tickets for.  He performed 'Boyfriend' and it was just AMAZING! I finally saw my idol for the first time ever. My seats were far away from the stage so I could barely see him but I didn't care because at least I got to be there.  After the show he did an interview on the stage, that's when he told us that he's was doing a world tour and that he'd come to Germany in 2013. I started crying and I was so happy. The tickets went on sale a month later and I was lucky enough to get meet & greet tickets! Finally the day came.When we were looking for a parking spot my friend suddenly screamed, "OMG SARAH! LOOK THERE ARE THE TOUR BUSSES." Then we went to the VIP entrance of the arena and there were already people waiting outside. We were then told all the basic meet and greet rules. Then everyone started screaming because Kenny walked out of the door. Then he disappeared but came back after a few minutes. Everyone was screaming his name, so he turned around a blew us a kiss. Suddenly again, everyone was screaming because Dan Kanter came over to us and took pictures with everyone in the line.  Everyone started to sing the 'Dan Kanter Song' and his smile got bigger and bigger. I went to him and hugged him and then he asked, "Oh you wanna take a picture?" and I said, "Yes please!" Dan is so nice! About ten minutes, everyone was screaming again because the meet and greet finally started. Before I knew it, we were standing in front of the curtain. A bodyguard opened it and I saw Justin!   I covered my mouth and started to shake even more. He looked like an angel, he didn't look real at all. The bodyguard told me to walk in but I was like, "No, no ….together," and pointed at my friend because she didn't want to go alone. Then he shouted, "Justin, two girls." I directly walked up to Justin and I know that I didn't say one word because I was in shock. I didn't even notice that someone took a picture and I also didn't notice that there were other people in the room besides Justin. After we took the picture I turned to Justin and said, "Thank you so much." Dustin took my arm and pushed me out. Directly after that I broke down in tears. I couldn't believe I just met my idol and I still can't right now writing this. I'm so thankful that I've met him and even though it was really short and expensive, it was still so worth it. I'd do everything to meet Justin again!  After the meet and greet my friend and I had so much luck because there were no seats left so we got stand directly in front of the stage. The whole show was amazing, it's something I definitely will never forget! I sang along to every song and I screamed so loud like I've never screamed before. When he performed 'Eenie Meenie,' he came over to us and pointed! Tears streamed down my face, I couldn't believe my idol just pointed at ME and looked in MY eyes! Then during 'BAAB' he came over to us again and took the phone of the girl next to me! After he played the drums he came back to us because he wanted to give the phone back but he didn't know whom the phone belonged to, so he almost gave it to me but I pointed at the girl next to me! I've been waiting 4 years for this day and it was the best of my life! Never Say Never & Believe – dreams do come true!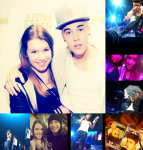 Originally posted here:
My name is Sarah, I'm 15 years old and from Germany….