Official "One Time" Song Contest Video. Do you want to meet me? Respond directly to this video with a cool, funny and/or creative video promoting my single "One Time". The winner will win a fly away to meet me! The contest is open to US and Canadian residents and we will do a contest like this in other countries when the song becomes available there. 12 years old and up with parents permission. We will post official rules tomorrow but for now put your best video ads telling people to buy ONE TIME as a response to this video and win a chance for you and a friend to get a vacation to meet me. Thanks. Love you guys. Official Rules: tinyurl.com www.facebook.com/justinbieber www.twitter.com/justinbieber www.myspace.com/justinbieber www.youtube.com/justinbieber CALL ME 404.665.3410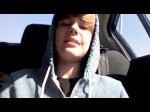 Read the original here:
Official "ONE TIME" Contest Video!